"VS Series" Vertical H2S Scrubbers
---
| | |
| --- | --- |
| Model: | VS-13000-2S |
| Capacity: | 13,000 / 6,500 ACFM [2 speed] |
| Stages: | 2 Stage. 1 -Caustic / 1- Hypochlorite |
| Recirculation pumps: | 2 Ea, 10 HP, Vertical |
| Chemical Metering pumps: | Pulsar 1 Ea, 1 HP 2 Ea 3/4 HP |
| Packing: | Lantec 3.5 Lanpac |
| Mist Eliminator: | Munters Chevron and Kemre Meshpad |
| Blower: | FRP, 30" BI, 20 HP, 460V, Arr 9 w/ FRP Acoustic Sound Enclosure |
---
RK Fabrication Vertical Packed Bed Fume Scrubbers
VS-1300-2S S Fume Scrubber constructed using premium grade Ashland - Hetron FR-992 (Fire Retardant Vinylester) resin system promoted with BPO/DMA catalyst and UV stabilized exterior Gel Coat. Scrubber is mounted on 6" C channel seismically restrained unitary skid with solid top.

Scrubber housing reinforced with 3" x 5" structural steel tube encased in FRP, and furnished with 6 - 24" manways, FRP blower sound enclosure. All steel surfaces coated with 2 part, catalysed Ameron 450HS system epoxy polyurethane system coating.
---
Application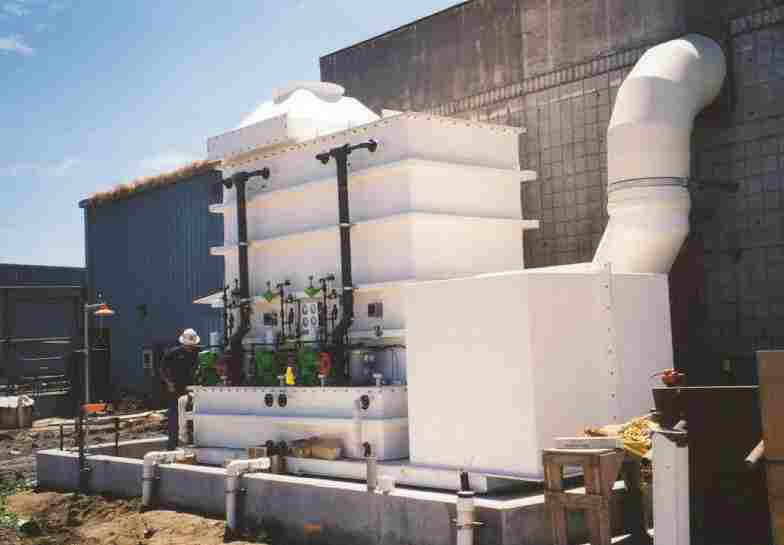 RK Fabrication VS Series scrubbers will remove foul odors H2S from municipal waste water treatment facility for complete removal of Hydrogen Sulfide Gas (H2S) from airstream utilizing neutralizing chemicals delivered through intimate neutralizing contact with 2 stage internal packed bed attainining 99.99% efficiency.

Both standard and custom designed scrubbers are available with capacities ranging from 1,000 to 100,000 CFM.
---
Mechanical Components
This scrubber was furnished with 2 Ea, Serfilco 10 HP recirculation pumps, 3 Ea, Pulsafeeder Chemical Metering pumps, 2 PH and 1 ORP probes, Liquid level controls, recirculation flow meters, Dwyer differential pressure gauges for each stage of packing and demisting section, special 2" Dia. Asahi 3 part diaphragm valves, Culligan 2 stage water softener for make-up water, 2 banks of Bette Fog spray nozzles at 240 GPM spray against 2 stages of 250 Cu-Ft of 3.5 Lantec packing.
---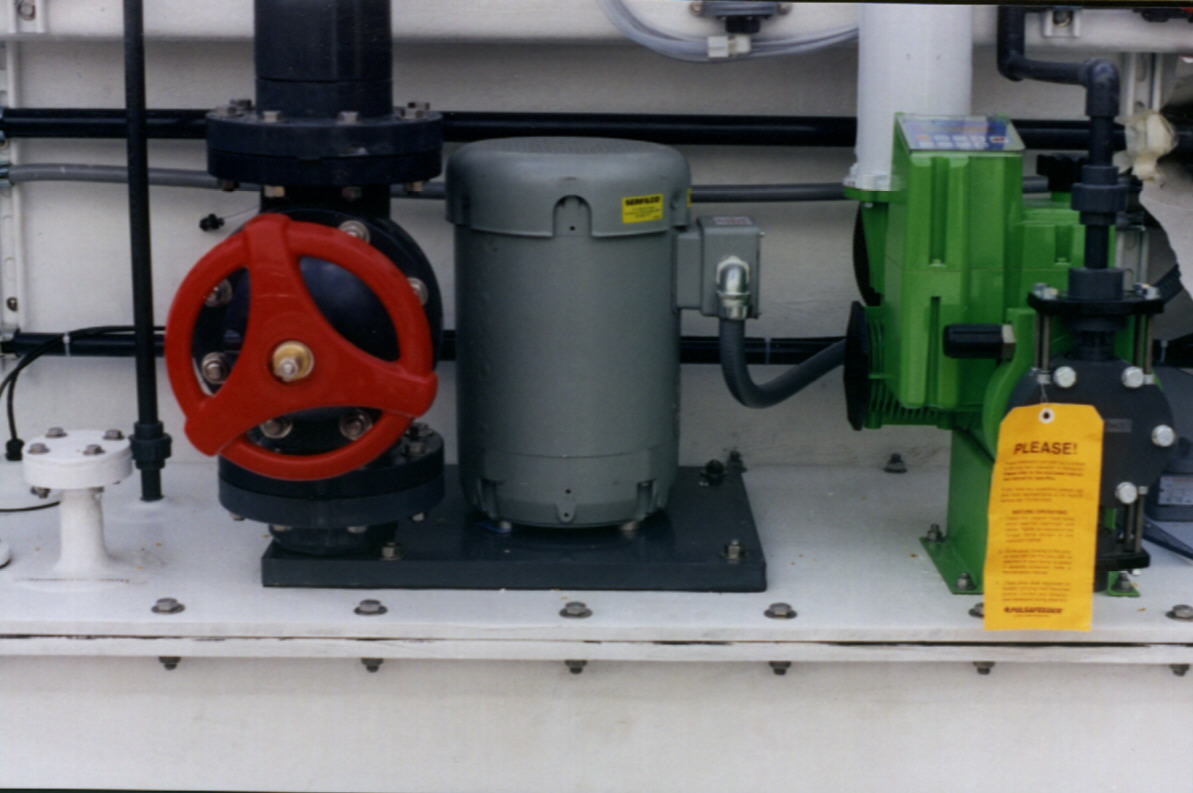 Pump section
2 chemical sumps, 2 recirculation pumps, 3 chemical metering pumps and controllers to neutralize H2S laden gas stream. All functions are monitored through control panel using pressure, flow, PH and ORP monitors.
---


Demisting Section - Efficient Airflow
---

Control Panel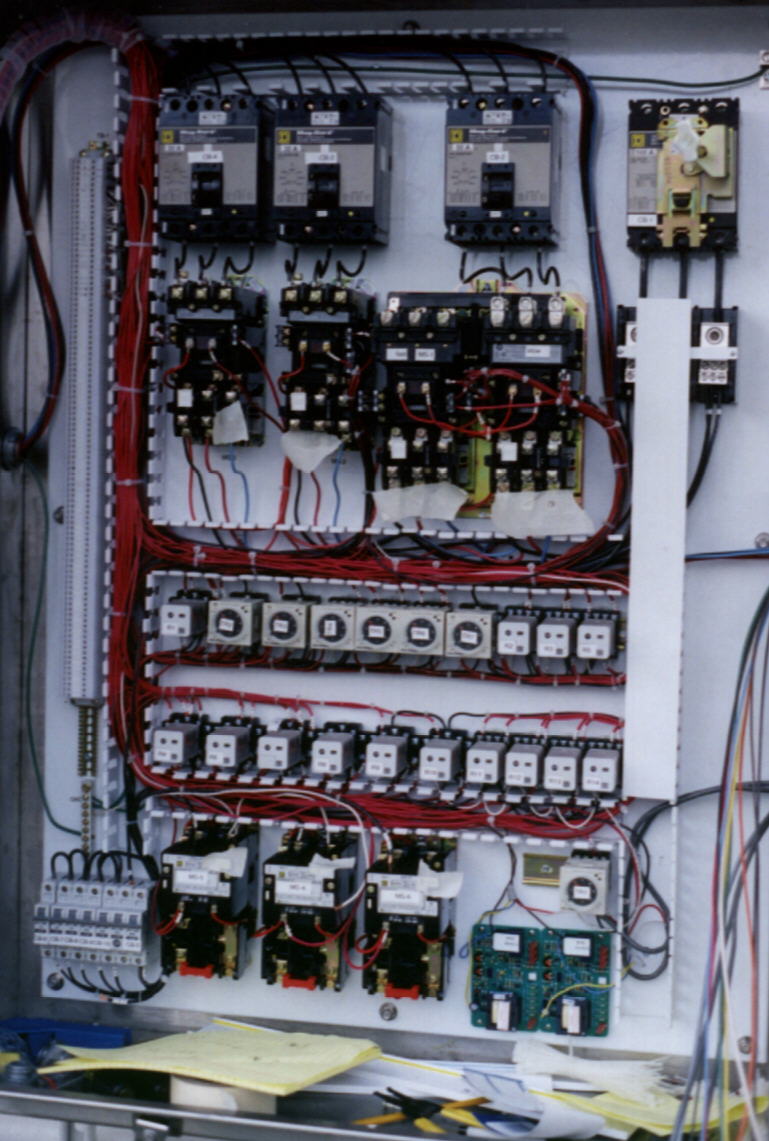 Control panel built by RK Fabrication for VS-1300-2S shown using Nema 4X chemical resistant stainless steel enclosure. Full control of all scrubber functions including 2 speed blower, recirculation pumps, chemical metering pumps, pH and ORP meters, liquid level controls and Air flow monitors.

All electrical connections are run through PVC coated chemical resistant rigid conduit.
---
Innovation to Completion.
Completed VS-1300-VS Skid mounted scrubber ships fully assembled, all 18,500 lbs. Shown is 25,000 lb. capacity fork-lift loading on double drop deck flat bed trailer for final destination. To finish the project, just provide 460V electrical service, inlet duct, fill and drain connections to complete installation.
---

Project Complete!
With on site commissioning and testing complete a 99.99% removal efficiency obtained through careful engineering design principals, quality control and innovation. The RK Fabrication Sales and Engineering department is available to custom design an Air Quality Solution for any size project.
---