Quality manufacturing of Plating Equipment, Fume Scrubbers, Tanks, FRP Duct, Fittings, Dampers. We also offer Plastic and

Fiberglass Fabrication. R K Fabrication provides electroplating, cleaning and wet process equipment to the PCB and metal finishing Industries.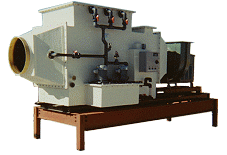 Our corrosion resistant FRP Fume Scrubbers and Odor Control Equipment including Emergency Chlorine Scrubbers, Hydrogen Sulfide, Ammonia Scrubbers, Mist Eliminators, Ductwork, Fans, Blowers and Tanks are manufactured for Municipal waste water treatment facilities, plating shops, anywhere odors or chemical fumes are a concern.
R K Fabrication custom designs and fabricates tanks of any size and shape for all applications ranging from plating to rinsing, and waste treatment to storage, lined and unlined steel tanks also available. We provide complete systems for plating, chemical handling, fume ducting, waste treatment, etc..
.
From the smallest of plating operations to large modular plating lines R K Fabrication can supply you with the "Complete Package" to help simplify the process of having new equipment installed, adding to you existing facilities output capabilities or meeting changing A.Q.M.D. and E.P.A. standards.
---
R K Fabrication has many combined years of experience in the custom engineering of systems related to industrial plating, etching, surface mounted technologies, chemical process, piping, scrubbing, filtration, odor control, environmental gas scrubbing, and plant pollution control compliance.
If your project requirements demand quality performance, precision fabrication, on time delivery and consistent customer service all for a price within your budget Call R K Fabrication Today!
R K Fabrication Inc. is committed to bringing you products of the Highest Quality. Our primary objective is to provide our customers with Timely Response, Competitive Prices and Quality Equipment.
---
---
Call R K Fabrication to speak with a technical representative and find out how R K Fabrication has the solutions to your industrial chemical process or ventilation requirements.
Telephone

714-630-9654

FAX

714-630-9655

Postal address

1283 North Grove Street, Anaheim, Ca. 92806

Electronic mail
Send mail to info@rkfabrication.com with questions or comments about this web site.
Copyright © 2003 R K Fabrication Inc. All rights reserved.